Anna Holt Shaw
Outstanding Pre-Veterinary Student Award Recipient
I am a B.A. in Biology major with minors in Psychology and Chemistry. I'm from a small town in eastern Tennessee called Crossville! This past year I've been the Health Professions Advising Office Pre-Vet ambassador and have loved every second of it! I'm glad to have helped others in pursuing this career. I've wanted to be a vet since I was little, so it's a dream come true to be able to attend The University of Tennessee College of Veterinary Medicine this upcoming fall. A fun fact is that I've drawn blood from an eagle and assisted in a necropsy on a tiger! I hope to practice as a small animal veterinarian and take care of everyone's sweet fur babies! Hotty Toddy!!

Meagan Mandabach
HPAO Most Valuable Person Award Recipient

Meagan Mandabach is graduating with a Bachelor of Arts in Biological Sciences and minors in chemistry and psychology. She is returning to her hometown of Birmingham, Alabama to start medical school at the University of Alabama at Birmingham in July. Some of the things she'll miss the most about Oxford are morning walks in Lamar Park, Christmas lights on the square, and the amazing people.
Andre' Smith

Red & Blue Service Award
I am a graduating Biology major with minors in Chemistry and Society & Health from Tylertown, Mississippi.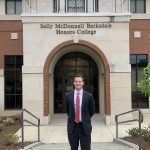 Andrew Groneck
Medical Service Award Recipient

I am a graduating Biochemistry major from Chesterfield, Missouri. I will be attending the University of Missouri School of Medicine in the fall.
Luci Strong
Outstanding Pre-Nursing Student Award Recipient
I am a graduating Biology major  from Canton, MS. If I could have a superpower, it would be teleportation because then I could go to all the vacation places I wanted to travel to for free.
Melea Mansel
Outstanding Pre-Occupational Therapy Student Award Recipient
I studied Psychology and Spanish, from Saltillo, MS, and am attending The University of St. Augustine in Austin, TX for the Doctorate of Occupational Therapy Program! Classes start Monday May 11th!
Summer Jefferson
Community Difference Maker Award Recipient
I am a Biochemistry major with minors in Classics & Society and Health.My hometown is Cumming, GA. I am also a  Stamps Scholar, a Taylor Medalist, a member of the Honors College, a member of Phi Beta Kappa, a member of Alpha Delta Pi, and Who's Who for 2020. Some of my most meaningful memories at Ole Miss have been engaging with the campus and local communities through Colleges Against Cancer, Rebels for International Health and Education, and Relay for Life. Academically, my professors have pushed and encouraged me to combine my interests and pursue research in food insecurity that I have been able to present at the Southern Rural Sociological Association's Annual Meeting (2020) and submit for publication in a journal. As a result, this award specifically means so much to me because of my extracurricular and research interests. During my gap year, I'm so excited to be working at the CDC again while I apply to med schools!
Outstanding Allied Health Student Award Recipient
I am nineteen years old and from Brandon, Mississippi. I am majoring in dental hygiene, and I will be attending UMMC in the fall of 2020. I don't go anywhere without my best friend, my dog Buddy. I love the rebs! I am so honored to be receiving this award! This just made my week! Hotty Toddy!!
I am an Exercise Science major from Mobile, Alabama. During my time at Ole Miss I was involved in Delta Gamma and Cru while working for Campus Recreation and doing research in Exercise and Memory Lab. I will be begin UAB's DPT program starting in January!
I earned a degree in B.A. Biochemistry with a minor in Psychology. I am from Brookhaven, Mississippi. I went to Mississippi School of the Arts for high school where I studied classical music and dance, and was awarded with Valedictorian, Hall of Fame and the Lindy Callahan Scholar Athlete Award. I am a first generation student, and will be the first doctor in my family as I am to attend the University of Mississippi School of Medicine next fall. At the University of Mississippi, I was selected for Who's Who, initiated into the Phi Kappa Phi Honor Society and graduated Magna Cum Laude. Through the HPAO, I was a student worker, the president of the HPAO Ambassadors and the PR Chair of the Pre-Med Mentorship Program. I volunteered in the Oxford community through the Leap Frog Enrichment Program, and at both the Baptist Memorial Hospital and MS State Veterans Home.