Brooke Tyree
Pre-Medical student from Jackson, MS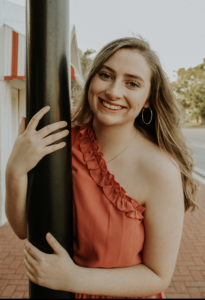 Why did you decide to pursue this health profession? I've always wanted to be a part of healthcare, so I could connect with my patients and be apart of their healing process.
Major: Radiologic Science & Allied Health Studies
Why did you choose this major? I'm a double major in radiologic science and allied health with a minor in psychology.
How has HPAO helped you on your pre-health journey? Meredith has always been there through every step to keep me on track and answer any possible questions I would have.
What is your most memorable HPAO experience? Meeting all the prospective students and their parents and getting to know them.
What are your career goals? I want to be a radiation therapist.
What are you the happiest doing? Hanging with friends or bingeing netflix
What is your favorite study spot? The library on campus
What is your favorite meal in Oxford? Anything from El Agave