Caitlin Knight
Pre-Physician Assistant Student from West Point, MS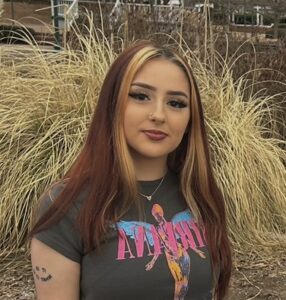 Why did you decide to pursue this health profession? Originally, I was on the track for Radiological Sciences. I decided after Fall Semester to switch to Pre-PA. I switched because I wanted to be more than just a tech. Radiology has always interested me, but I thought I could do more, and I wanted to give myself more time and opportunities. Within PA, I can choose whatever specialty of my choosing, which allows me to discover new passions of mine from now until PA school. PA will still allow me to do what I love, which is helping others. Currently, I am interested in pathology, radiology, and emergency medicine.
Major: Allied Health Studies
Why did you choose this major? My major is Allied Health Studies. I chose this over Pre-Med because the courses would be a lot easier. Pre-Med would add unnecessary stress, where Allied Health Studies gives you lenient room to complete STEM courses and additional "fun" courses. The degree plan is laid out exceptionally well, and allows for wiggle room (and additional transfer classes you may have!). I have absolutely no regrets about my major and love HPAO office!
How has HPAO helped you on your pre-health journey? HPAO has been incredibly helpful during my freshmen year. Their office is always open to any questions you may have. The atmosphere within the office can definitely improve your mood as well! Their staff is warm and friendly, and many want to create lifelong meaningful relationships with the students. Their weekly newsletter provides immense volunteer, internship, tutoring, and class opportunities.
What is your most memorable HPAO experience? My most memorable moment has been with my lovely advisor, Meredith Pyle. She has been amazing this first year! She is always there when I need her, whether it pertains to school or not. She helped me decide my "major" change, and has given me many opportunities (such as tutoring next year!). She is one of the most kind and bubbly faces you will meet at Ole Miss!
What are your career goals? After college, I plan to attend PA school (not sure which one yet!). I aspire to become a Physician Assistant and help expand education within the health field. Healthcare is an extremely topic in the United States, which prompted me to join the healthcare field. I would prefer to work in a doctors's office than a hospital, though! I especially want to help those that cannot afford healthcare/ have little knowledge of it.
What are you the happiest doing? When I am not studying, I enjoy hanging out with friends and family. My mom and brother often visit me in Oxford, and we always try a new food spot. Currently, we have tried 5 different places! I like to hang out with my friends in the Union or have late
What is your favorite study spot? I like to switch my study spot up frequently to give myself variation! You can find me in the grove, the Honors College, the second floor of the Student Union, and the Library. I like to switch it up because I get tired of the same spot easily. I like see
What is your favorite meal in Oxford? As a vegetarian, sometimes it is hard to find meals to accommodate me. However, I LOVE the vegetable plate from Ajax on the square. I usually get mac and cheese, mashed potatoes with gravy, turnip greens, and fried okra. Soul food is one of my favorite foods.