Cynthia Nguyen
Pre-Physician Assistant Student from Flowood, MS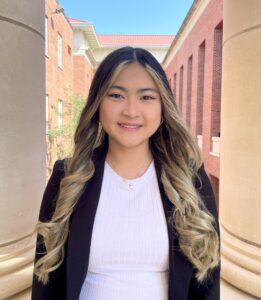 Why did you decide to pursue this health profession? I decided to pursue this health profession because of its flexibility between fields.
Major: Dietetics and Nutrition
Why did you choose this major? I chose my nutrition major because it is something that I am very interested and passionate about.
How has HPAO helped you on your pre-health journey? HPAO has helped me figure out my true path and has allowed me to learn more about other health professions.
What is your most memorable HPAO experience? My most memorable experience working with HPAO was Mississippi Day or any of the college days because I could talk to many people about a Physician Assistant
What are your career goals? I plan on becoming a PA and go to UAB or Baylor.
What are you the happiest doing? I love to bake or volunteer at the Pinnacle.
What is your favorite study spot? High Point coffee
What is your favorite meal in Oxford? South depot or Kabuki