Embry Hollowell
Pre-Dental Student from Jackson, MS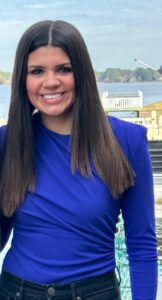 ??????????
Why did you decide to pursue this health profession? After working and observing in my dad's dental office and witnessing the rapport he has with his patients, I was hooked. Also, in high school I did an externship project researching the link between dental health and heart disease, which further sparked my interest in the dental field.
Major: General Business
Why did you choose this major? I chose to major in General Business because I think that every dentist should understand the marketing, accounting, and finance aspects of dentistry in order to have the best, most efficient practice.
How has HPAO helped you on your pre-health journey? The HPAO has helped me significantly with managing the large academic, community service, and leadership workload that most pre-health students face. It is easy to get overwhelmed with the rigor and intensity of our classes, and the HPAO, specifically Dr. Taylor, has helped me take these classes one step at a time rather than becoming overwhelmed. The HPAO has also provided me with excellent advice, such as the recommended community service hours in order to be a competitive dental school applicant and places in Oxford to serve.
What is your most memorable HPAO experience? My most memorable HPAO experience so far has been my mini "interview" with one of UT Dental School's representatives who was in Oxford for the Health Professions Fair. I am extremely interested in UT Dental and plan to apply there next spring, so getting to meet one-on-one with one of their representatives, even if it was for 10-15 minutes, was important and valuable to me. I'm so glad the HPAO gave this opportunity and that I was able to participate in it!
What are your career goals? My ultimate goal is to get into dental school, and then from there I'd love to do a residency and become an oral surgeon!
What are you the happiest doing? Hanging out with my friends at one of our apartments or running on the treadmill!
What is your favorite study spot? The bar counter in my apartment's kitchen
What is your favorite meal in Oxford? Definitely Lenora's chicken parmesan pasta