Fallon Stevens
Pre-Occupational Therapy Student from Frisco, TX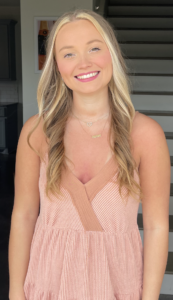 Why did you decide to pursue this health profession? I have always had a passion for helping people, and OT will allow me to help people every day. I love that I will have the chance to positively impact someone's life!
Major: Communication Sciences & Disorders
Why did you choose this major? I chose to major in CSD because I want to be a pediatric OT and while I was shadowing, I saw how much the occupational therapists worked with the speech therapists.
How has HPAO helped you on your pre-health journey? HPAO has helped me by connecting me with people who are also interested in OT and proving me with information about applying to OT school.
What is your most memorable HPAO experience?
What are your career goals? Eventually, I would like to open my own pediatric outpatient clinic
What are you the happiest doing? I am happiest when I am hanging out with my friends or doing anything outdoors
What is your favorite study spot? The grove!
What is your favorite meal in Oxford? Lost Pizza