Jessi Thompson
Pre-Veterinary Medicine Student from Leesburg, MS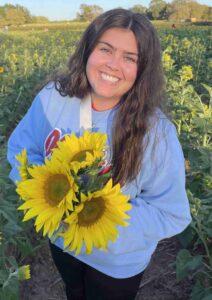 Why did you decide to pursue this health profession? I have always been interested in working with animals since I was young, but I didn't think of vet med as a real option for a career until my senior year of high school. I ultimately chose to pursue a pre-vet health profession after getting a job at a veterinary hospital back home. For me, getting those experiences in the field allowed me to solidify my decision to pursue veterinary medicine as well as the advice that I have gotten from HPAO that helped me realize that this was an attainable career. I cannot imagine a better way to spend my days other than helping the helpless and giving them a voice.
Major: Biology
Why did you choose this major? I am majoring in Biology with minors in Chemistry and Classics. I chose to major in Biology because I looked at the classes required for this degree and they seemed interesting to me and I felt like they are classes that I would love to learn more about. I knew going in that Biology was not the only major that pre-vet student could take, but it seemed like the best fit for me. I also added a classics minor with a latin emphasis because I took one latin class and instantly fell in love with this area of study. I think that it is really important to pursue your interests in college and find what you love!
How has HPAO helped you on your pre-health journey? HPAO has helped me in countless ways. I always walk out of my appointment with Dr. Stuart feeling much more relaxed than I did going in. She has provided me with help scheduling classes to make sure that I am on the right track for my degree requirements as well as my professional school requirements. She also is the best at giving advice, always recommending places that I can volunteer, shadow, or work so that I can have the most competitive application whenever it comes time to apply to professional school.
What is your most memorable HPAO experience? My most memorable experience working with HPAO was my first time visiting Dr. Stuart. I didn't know what to expect coming in, but the meeting went so much better than I could have imagined. I learned in this meeting that talking with an advisor in HPAO is much different than talking to any other advisor because at HPAO, they actually listen to you and your concerns and help you through them. I am so thankful that I made that first appointment because I truly believe that I would not be as ready for professional school as I am now without guidance from HPAO.
What are your career goals? I hope to one day be a veterinarian working with small animals and maybe open my own clinic one day. I would also love to travel abroad and work with veterinarians around the world!
What are you the happiest doing? When I am not studying, I love being around animals, watching sunsets, traveling to new places, and laying in my hammock.
What is your favorite study spot? My favorite spot to study is anywhere outside! I love getting to enjoy nature, get some fresh air, and have a change of scenery when I am studying.
What is your favorite meal in Oxford? Most definitely the P-5 at El Agave.