Mary Laine DeMetz
Pre-Physician Assistant Student from Pass Christian, MS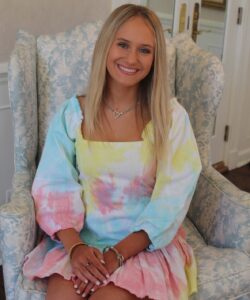 Why did you decide to pursue this health profession? I am pursuing a health profession as a PA for several reasons. I have always wanted to be in the medical field, and the moment I found the PA profession, I was hooked! I love that you can hop around specialities and that you always have a mentor to look up to working alongside a physician. I am very passionate about the health field, and PA is one of the quickest ways to get started in your career!
Major: Nutrition and Dietetics
Why did you choose this major? I chose to major in Nutrition and Dietetics because I have always had an interest in nutrition and wanted to do something different than biology or chemistry. It is so important to understand how nutrition affects our bodies, and I think having this background will help me immensely in my future health profession. The degree with the health science emphasis is set up to ensure I am getting all of my prerequisites, and allows room for me to take any other science courses I may need. I have thoroughly enjoyed all of my nutrition classes I've taken at Ole Miss!
How has HPAO helped you on your pre-health journey? HPAO has helped me tremendously as a health student with hopes of getting into graduate school. I have been seeing Mrs. Kelli since I was a freshman, and she has guided me on the best possible path to make getting into PA school a reality. She assists me when making my schedule every semester, is a great person to go to for advice, and even serves as the advisor for the club I am the co-president of, the Pre-PA Society!
What is your most memorable HPAO experience? I really enjoyed the HPAO fair this year! Since I am applying to graduate school in the next year, it was a great resource to have all of the admissions people from the surrounding PA programs all in one space to talk to for advice. I learned about so many schools I didn't even know existed, which I now consider some of my top choices after meeting them at the fair. It is such a great event that all health professions students should take advantage of attending!
What are your career goals? My goal is to one day become a Physician's Assistant.
What are you the happiest doing? I enjoy hanging out with my friends in Oxford and going on the boat with my family when I'm home on the coast!
What is your favorite study spot? Either the study rooms at Tri Delt or the graduate!
What is your favorite meal in Oxford? My favorite meal in Oxford is either the jarijari roll from Jinsei, or the chopped salad from St. Leo!