Amelia Ladner
Pre-Medical student from Jackson, MS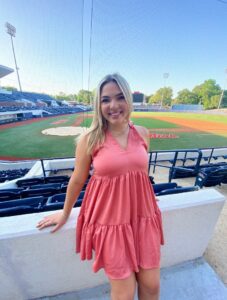 Why did you decide to pursue this health profession? I decided to pursue a career as a physician because I have always wanted to work in the healthcare field and provide care to people!
Major: BA Biology
Why did you choose this major? I chose to be a Biology Major because I have always been drawn towards learning about how the world functions.
How has HPAO helped you on your pre-health journey? HPAO has really helped me embrace my path towards becoming a doctor and everyone in the office and part of HPAO are the world's best  encouragers.
What is your most memorable HPAO experience? My most memorable experience from HPAO was the from the health fair this year! It was so great to see so many people at the event all coming together.
What are your career goals? Pursue a career in Medicine in Women's Health
What are you the happiest doing? I love going on walks with friends!
What is your favorite study spot? My favorite study spot is definitely the hoco dungeon.
What is your favorite meal in Oxford? Any St.Leo pizza and a bowl from South Depot!