Anna Nowell
Pre-Optometry student from Trenton, TN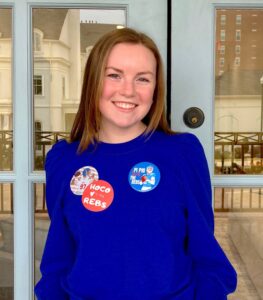 Why did you decide to pursue this health profession? I decided to pursue optometry because I have been fascinated with eyes ever since I can remember! Plus I knew I wanted a profession in the health field where I can help people, so optometry was the perfect fit!
Major: BA Biochemistry
Why did you choose this major? I am a biochemistry major. I chose it because science courses are my favorite, and it incorporates all the classes I need for optometry school!
How has HPAO helped you on your pre-health journey? HPAO has been such a guiding force in my time here at Ole Miss. They have helped me with my schedule, my shadowing hours, and just life in general!
What is your most memorable HPAO experience? My most memorable experience with HPAO was during spring registration freshman year when I freaked out and panic-emailed Dr. Taylor at one in the morning about my schedule. He responded the next morning, answered all of my questions, and helped calm my nerves all in one email!
What are your career goals? I hope to obtain my OD then pursue a residency. Afterwards, I want to travel and work as an optometrist – possibly specializing in pediatrics!
What are you the happiest doing? I am happiest going on a walk at Lamar Park with my headphones in and just enjoying being outside.
What is your favorite study spot? I'm a big fan of the HOCO dungeon!
What is your favorite meal in Oxford? I love the nachos from Moe's!