Athan Gregory
Pre-Medical
 student from Saint Joseph, MI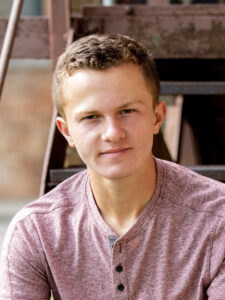 Why did you decide to pursue this health profession? I'm pursuing medicine for two main reasons. I have been around caretaking my entire life, watching and mimicking my parents attend to my older sister on the autism spectrum ever since I was little. Caretaking has become so second nature to me, that I feel more comfortable in general when I am watching over and tending to others' needs. Secondly, I dream of becoming a physician because I am enamored with science. I have always had an overwhelming curiosity for it, and it is a driving force in my ongoing education.
Major: B.A. Biochemistry
Why did you choose this major? A Bachelor of Arts in Biochemistry is my major because it not only emphasizes my favorite subject, chemistry, but it also isn't overwhelming with coursework, allowing me to have the freedom to experience my other minors Biology, Psychology, and Spanish.
How has HPAO helped you on your pre-health journey? The HPAO has helped me tremendously. The pre-health advisors have reassured me I'm on the right track countless times when I've been stressing, and they don't hesitate to be honest with me when I need a little tough love. They've put me in contact with successful upperclassmen that offered me detailed, wise advice, and the newsletter has kept me up to date and aware of pre-health opportunities around Oxford so I don't ever feel like I'm missing out. I want nothing more in the world than to become a doctor, and the HPAO has propelled me closer to one day achieving my dream.
What is your most memorable HPAO experience? My most memorable experience so far working with HPAO was just recently. I met with Ms. Kelli, considering pursuing a Spanish minor, and she convinced me to go for it, explained why, and showed me how I could make it work. She even made a plan for me with all the courses I needed to take for my major and minors. It was a relief to finally have it all planned out, and I felt confident I was being set up for success.
What are your career goals? I want to become an Emergency Medicine physician in a bustling emergency room so I can impact as many types of patients as possible in an environment that varies in intensity hour by hour. I also want to earn some sort of hospital leadership position where I can facilitate change and work with others to improve my healthcare system while still practicing medicine.
What are you the happiest doing? I'm happiest hanging with my friends, playing guitar, golfing, working out, or picking up new hobbies.
What is your favorite study spot? My favorite study spot is Lost Dog Coffee out in Taylor. It's a little bit of a drive, but totally worth it every time. The vibes and coffee facilitate hardcore studying and productivity!
What is your favorite meal in Oxford? Without a doubt, my go-to meal is a South Depot burrito, loaded with double meat and practically everything on it.