Avery Dawson
Pre-medical student from Montgomery, Texas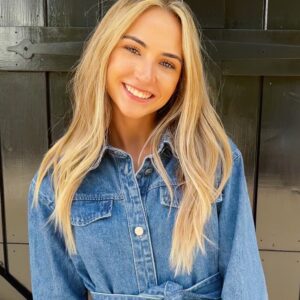 Why did you decide to pursue this health profession? From a young age, helping others has been my passion. I knew I wanted to pursue a career that provides me the opportunity to positively impact the lives of others. I decided to pursue medicine because being a doctor allows me to help people in their time of need and to promote healthy habits that can improve their overall quality of life. I believe that being a doctor is not just about treating illnesses, but also about providing information and guidance to prevent people from suffering in the first place. I want to become a doctor that helps find a solution for my patients and not just an answer.
Major: Dietetics and Nutrition: Health Sciences Emphasis
Why did you choose this major? My major is Dietetics and Nutrition with a health science emphasis. Originally, my major was Biology, but I soon realized there's more than one path to medical school. I decided to change my major to nutrition and dietetics because I have always been interested in the relationship between nutritional science and health. I'm passionate about the impact a healthy lifestyle can have on our bodies. I think it is important to have a solid understanding of the role nutrition plays in our health before pursuing my future career in healthcare.
How has HPAO helped you on your pre-health journey? The HPAO has been a constant source of comfort and support for me since my freshman year. The advisors and students have been an essential resource for me throughout my time at Ole Miss, especially when it comes to navigating the complex classes and schedules required for health professions. Whenever I've had questions or concerns, I've been able to turn to the HPAO for reliable answers and guidance. I'm incredibly grateful for the help I've received from this office. I believe that other students can benefit greatly from the support and advice offered by the HPAO, and I'm eager to spread the word about its many benefits.
What is your most memorable HPAO experience? One of my most cherished experiences working with the HPAO has been the welcoming and supportive atmosphere of their office. Whenever I've scheduled an advising meeting, I've often come in feeling stressed or uncertain about my path, but I've always left feeling reassured and confident.
What are your career goals? My career goal is to attend medical school, pursue a specialization in dermatology, and conduct research to find cures for various skin conditions and diseases. I hope to be able to improve the lives of countless people who are suffering from these conditions and help people feel confident and comfortable in their own skin. Ultimately, I aspire to open my own practice and provide high quality care to patients.
What are you the happiest doing? When I'm not studying, spending time with my family and friends is a top priority for me. I also enjoy staying active, traveling, going to dinner, and watching movies.
What is your favorite study spot? My favorite study spot is the 3rd floor at the JD Williams library or a classroom at Brevard.
What is your favorite meal in Oxford? My favorite meal in Oxford is anything from City Grocery!