Baleigh Brumfield
Pre-Dental Student from Summit, MS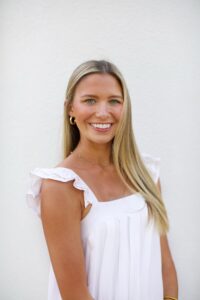 Why did you decide to pursue this health profession? When I was in Kindergarten, my teacher gave me the nickname "Smiley" because she said I never stopped smiling. As I got older, I found myself always loving going to the dentist. My pediatric dentist was the best, and as I fell in love with the atmosphere and going there, I started thinking about how I wanted other people to feel the way my pediatric dentist made me feel about going to the dentist and being cared for. It brought me back to my Kindergarten teacher always pointing out my smile and how I could have a career that not only helps other people but aids in others feeling confident in their smiles. When I first became interested in this career and started shadowing, I knew it was the health profession I wanted to pursue. Seeing patients leave with joyful smiles on their faces was the answer I had been searching for for the career I wanted to pursue and have one day.
Major: Nutrition and Dietetics
Why did you choose this major? I chose nutrition as my major because it is a major that has always interested me. I love learning about ways to take care of the body and what living a healthy lifestyle looks like from a nutritional standpoint. Nutrition also goes hand in hand with oral health, and I have learned information that I can later apply in dental care and treatment in my future career.
How has HPAO helped you on your pre-health journey? HPAO has prepared me in ways I could not have prepared on my own. Without HPAO, I would not only lack in the competition of my overall application for professional school, but I also would not have the confidence I have now going into the application cycle and future potential interviews. I have gained confidence in myself, my application, and what to expect when applying to a professional school, specifically dental school. Because of HPAO, I am equipped with the knowledge and resources to be successful in my application, professional school, and my future.
What is your most memorable HPAO experience? My most memorable experience working with HPAO would most likely be taking Dr. Taylor's online class for the application to health professional school this past semester. This class made the application process less intimidating and less overwhelming. This class allowed me to evaluate each section of the application, complete each section, and receive honest, beneficial feedback on my work. It equipped me with the ability to be successful during the completion of the application to dental school, and for that, I am very grateful.
What are your career goals? I hope to pursue a career in Pediatric Dentistry as well as attend medical mission trips to provide dental care and services in different countries.
What are you the happiest doing? I enjoy painting, going on walks, and playing tennis.
What is your favorite study spot? Heartbreak Coffee on the Square
What is your favorite meal in Oxford? Country fried steak from Tallahatchie Gourmet