Braedan Watters
Pre-Medical Student from Madison, MS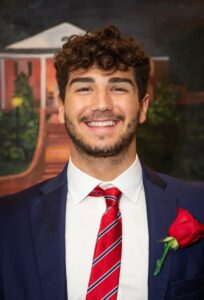 Why did you decide to pursue this health profession? I decided to pursue the medicial profession because of a long-term longing for providing for patients in need of physical and mental help/advice and the possible impact I can provide to communities in need!
Major: Biology
Why did you choose this major? I knew I wanted to be a Biology major finishing high school because I knew I wanted to specialize my education in a field that allows me to learn about the in-depth mechanics that control different physical characteristics to better educate others around me. My passion for teaching the importance of health and fitness to others as well as educating myself was a large reason for my interest in this field.
How has HPAO helped you on your pre-health journey? HPAO has helped give me a direction to apply what I am studying to different aspects of life. Whether this is through clinical experience, counseling for academics, or providing intel on opportunities to serve the community, this office has been incredibly rewarding for me.
What is your most memorable HPAO experience? My most memorable experience working with HPAO was bonding with Dr. Stuart through my recent advising meeting. She is such an incredible woman whose bright attitude and encouragement made my freshman appointments so worth it.
What are your career goals? My career goals are to attend medical school, pursue a specialization in Orthopedics, and help fortify the community of Jackson by building personal relationships with patients. I have been inspired by various orthopedic surgeons in the Jackson Metro Area who are so proficient at their craft and caring toward their patients, and I would love to follow in these footsteps.
What are you the happiest doing? I am the happiest powerbuilding when I am not studying. Challenging myself to go to the gym with the correct intensity and reaching goals I continuously set provides a discipline that complements well with academics.
What is your favorite study spot? My favorite study spot is my hall's study room in Minor Hall, specifically when the window blinds are up and the sun is blessing my studying.
What is your favorite meal in Oxford? My favorite meal in Oxford is Moe's BBQ. Recently discovered, that smoked chicken has been hitting different.