Podiatry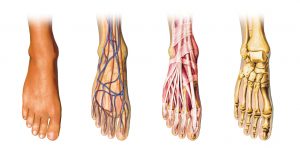 Students interested in podiatry will pursue a Doctor of Podiatric Medicine (DPM).  Podiatry is the branch of medicine which medically and surgically manages care of the lower extremity.  The podiatric physician is a health professional who is involved with examination, prevention, diagnosis, and treatment of foot disorders by physical, medical, and surgical means.  They are trained to detect the signs of general bodily disorders which may appear first in the lower extremity, such as diabetes or circulatory disorders.  When such diagnoses are made, the podiatrist consults with the patient's family doctor concerning the continuing treatment of the systemic ailment.  A career in podiatric medicine can include the areas of primary care, surgery, orthopedics, sports medicine, geriatrics, and pediatrics. 
Requirements for application to a podiatry program are very similar to requirements for medical and dental schools.  There are no colleges of podiatric medicine in Mississippi, but you can find schools and more information by visiting the website for the American Association of Colleges of Podiatric Medicine.
To enter podiatry school, you will need: 
A bachelor's degree

 in any major that you choose,

 

Specific courses required by p

odiatry

schools,

 

Experience in a p

odiatry

 setting, such as shadowing a 

podiatrist

,

 

A competitive

 

Medical College

 Admissions Test

 (MCAT)

 s

core,

 

Letters of evaluation that address personal qualities and characteristics of the applicant, and

 

Evidence of leadership and community involvement.

 
It's never too early to start thinking about preparation for podiatry school.